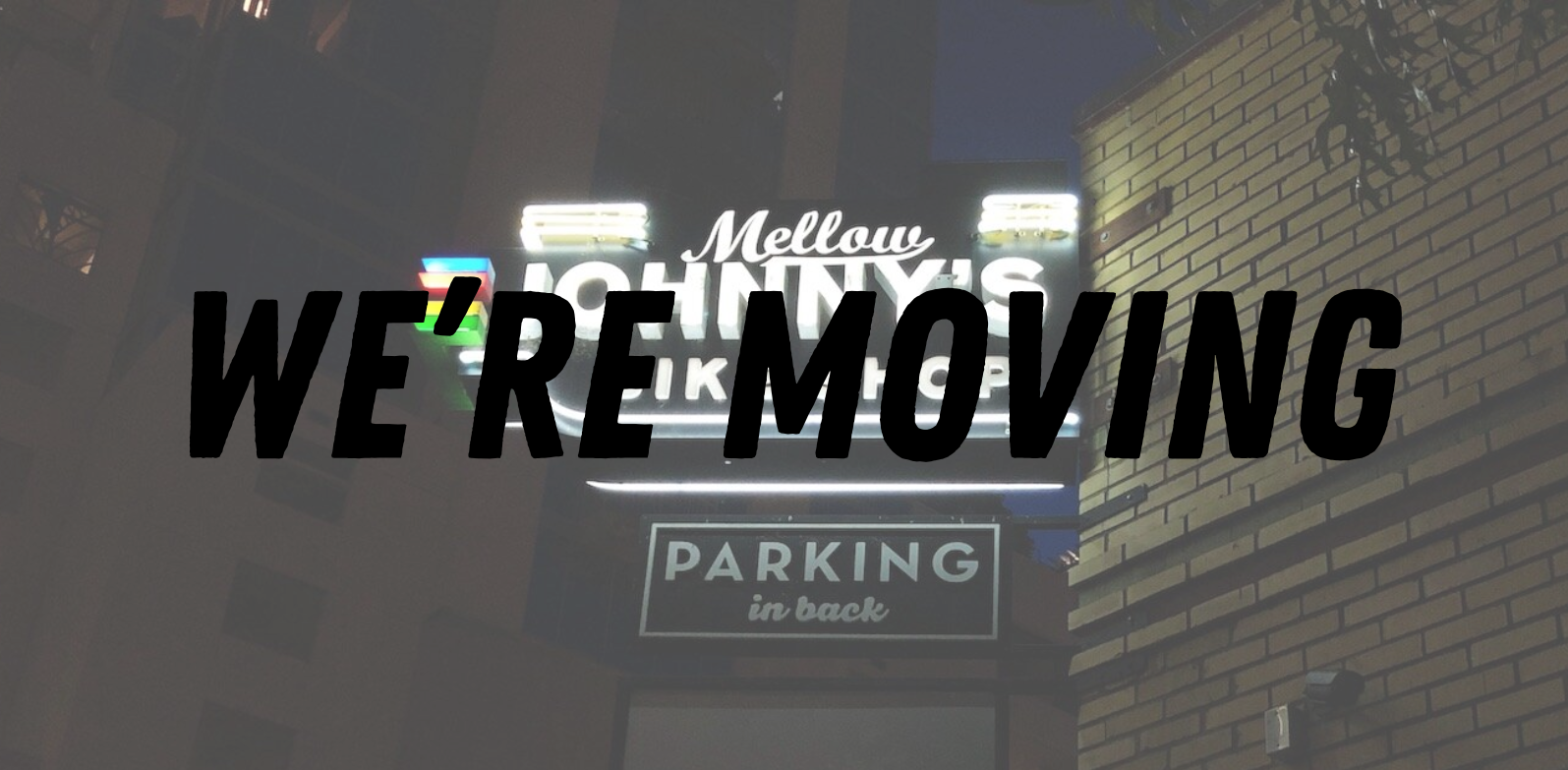 Here it is. Everything you might want to know about Mellow Johnny's new location.
Where is the shop moving to?
We'll be at 115 Sandra Muraida Way, Suite 102 Austin, Texas 78703. It's just 0.6 miles from our original location, roughly a four minute bike ride or a 15 minute walk. You can get directions from our Nueces store to our new location here: https://maps.app.goo.gl/zutyqfrytW58mNZP8
When will the new shop at 115 Sandra Muraida Way open?
We currently plan to be operating at 115 Sandra Muraida Way on Friday, October 13, 2023.
When will the Nueces store close?
400 Nueces will be closed starting Monday, October 9, and will remain closed during our move to 115 Sandra Muraida Way through October 12.
What's the coffee situation? I heard Juan Pelota is not re-opening.
This is true. Juan Pelota will not be in the new location at 115 Sandra Muraida Way. However, Manana is right across the sidewalk from us and has some of Austin's very best coffee and more. Manana is owned and operated by some of our owners and so it only makes sense to partner with them, along with our other friends down the sidewalk at The Loop Running Supply, to help activate our little corner of the heart of Austin. Rest assured that the Juan Pelota brand will live on in limited release merch and more. Plus Manana has already added a number of JP's smoothies to their menu!
Is there parking at 115 Sandra Muraida Way and is it free?
Yes! One of the bigger issues for some has been the paid parking situation at 400 Nueces. It's one of a few reasons we're excited to move as we'll be able to validate parking for up to an hour at 115 Sandra Muraida Way. You may not know but we don't actually own the lot adjacent to Nueces (nor the building itself). Back in the day when we opened the lot was free…and routinely full of cars that were not customers' which was its own problem. But back then street parking was often free. Times change and being in the central business district now means limited to no free parking almost anywhere. We'll be glad to have this behind us!
Where is the parking at 115 Sandra Muraida Way?
We're on the southwest corner of Sandra Muraida Way, which is a dead end street heading north. As you drive that way just past the shop and near our friends at The Loop Running Supply there is a parking garage on the left. Park in there in the retail parking area. There's lots of parking available. Take a ticket and we'll validate it for up to one hour. NO BIKES ON ROOF RACKS! Need help getting your bike off a roof rack before heading to the garage? Give a call and we'll come out and assist you outside the shop before you head to the garage.
You're moving? What if I have a bike in service, have ordered a bike or other part or accessory, or what if I just want to swing by and get a t-shirt while I'm in town?
Our service department is still running and doing its very best to get bike repairs and builds done in a timely fashion despite the move. As your repair is complete our service team will call and let you know where you can get your bike. Our sales floor will be closed during the move, but give us a call if there's an emergency and we'll do our best to help you out. Your best bet if you have gotten a call from the shop about an item you ordered or a repair that is done is to come to Nueces this week to get your items.
Will there be a grand opening party at 115 Sandra Muraida Way?
October is already shaping up to be a busy month in the new shop at 115 Sandra Muraida Way and this month will serve as a sort of soft opening. We're hosting a Rapha Ride on the 14th and BMC will be in town the following week to launch a new bike, which will coincide with a bike-in movie night at 115 Sandra Muraida Way, a special night of racing at the Driveway, a number of rides around Lady Bird Lake and on the road with Violet Crown, and more. We'll also be using October to get the new shop dialed in and hope to have an official grand opening party in November.
Are you having a moving sale?
We are! There are deals to be had at 400 Nueces. We've had bikes and other items on sale for some time. Currently a good number of bikes are on sale at their lowest prices ever. You can see the list of bikes here: https://www.mellowjohnnys.com/the-latest/bike-sale-bikes We also have ALL clothing at 40-60% off and all eyewear at 20% off. These sale prices are in effect at our Nueces store though Sunday, October 8. After our move to 115 Sandra Muraida Way many items will return to standard MSRP or standard sale prices. So this is the best week to shop for a new bike!
What about all of the other "stuff?" Is it for sale too?
Our current plan is to have some "Garage Sale" days after we get our current inventory moved to 115 Sandra Muraida Way. Those items will include remaindered cycling gear, possibly some bikes, maybe some memorabilia, as well as furniture and some fixtures. Stay tuned to our social media and our emails to see when that will be.
Why are you moving? Nueces is such a cool building!
It is! But it's time to move. Rents being what they are in the warehouse district Nueces is, in a word, expensive. And old buildings need TLC. Lots of it. Our new location at 115 Sandra Muraida Way is definitely a different vibe, but in a good way. Loads of natural light. We'll have a front yard. We're that much closer to the Lady Bird Lake Hike and Bike Trail–it's literally out the front door. Everything about the new space is new. It's efficient, modern, and fresh. The move to our new location will ensure the continued health and vitality of the shop as a part of Austin's vibrant cycling scene and as a business. Plus, it's been 15 years and changing it up is a good thing. We're excited and can't wait to see you at 115 Sandra Muraida Way starting on October 13!