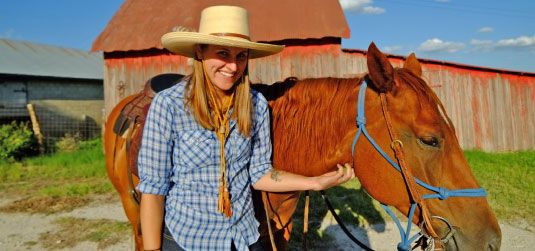 Staff Profile: Cassandra Powers
Let's get to know Cassandra, our Fulfillment Coordinator. Her relationship with the bike is relatively new, but committed and passionate.
Parental Advisory: This piece contains one instance of mild profanity. It rhymes with "wit."
Cassandra Powers
Cassandra is the person who fulfills your online orders with care and attention.
Where did you grow up?
Cave Creek, Arizona
What was your first bike as a kid?
I don't really remember; all my bikes were hand-me-downs from my brother, and to be honest, they didn't make much of an impression. I grew up with horses and spent most of my time on horseback.
What was your first "serious bike"
My first "real" bike as an adult was an old Peugeot that I used for commuting to and from ASU. So it was functional, first. That bike was sadly totaled while on the back of my car when I was rear-ended. RIP, bike.
When I moved to Austin, I got another old Peugeot to commute to and from UT. My husband was a serious rider and he encouraged me into the sport.
After a few months of "real riding", he gave me a late 80's hand-built frame—unmarked and unbranded Columbus tubing. We built it with a Campy group and downtube friction shifters. I assembled it myself—at his insistence. I put 8,000 miles on that bike the first year I had it; now I just use it for commuting.
What style of riding do you do?
I started on the road, but since I began mountain biking last year, I can't get enough trails. I think progress on the mountain bike is much more tangible; that feeling when you clean a feature for the first time is so much more rewarding than road PRs. And, no cars!
Do you race? What was your first race?
I raced for a season on mountain bike, but these days I'd rather just ride my bike without paying any entry fees.
Can you remember a "favorite moment" on your bike?
As mundane as it sounds, it was a ride to Manor. I remember riding down Blue Bluff that first time with my husband, and that's when I "got it". Quiet country roads, rolling hills, longhorn cattle. It made an impression.
What was your worst moment on a bike?
That time a bird shit in my mouth.
Do you/did you play sports other than cycling/bike racing?
Horseback riding (trail riding, working cattle, cutting, etc.) and softball. Growing up, those were my serious sports pursuits.
What's your favorite bike right now?
I love my Cannondale Habit. It's 3 months old and it is simply fun to ride.
What is a favorite ride/route?
For mountain biking, I really like Brushy Creek—it's close by and has a variety of trails, but of all the trails there, Deception has my heart (and some of my blood). I also enjoy the Greenbelt before sunup. Outside of Austin, I really love the trails in my hometown, especially the Cave Creek Cactus Classic loop. For road riding, any country routes that involve at least one unpaved road. Luckily, the areas surrounding Austin have a lot of those.
If you could take a ride anywhere, where would it be?
Like everyone else, I'd really like to spend some time on my mountain bike in Utah.
What is your history in the bike business?
Mellow Johnny's is my first bike job. I left a soul crushing office job and became a sales associate here.
What is your favorite meal, if cycling didn't matter?
Via 313 pizza after a mtb ride. During a road ride, my go-to snack is a coconut paleta.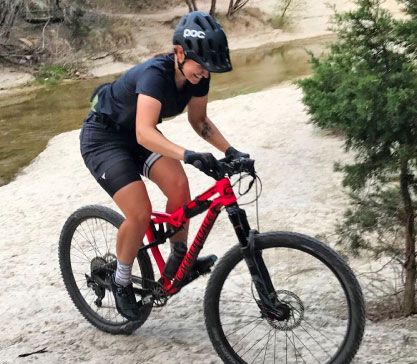 Cassandra on her other ride.