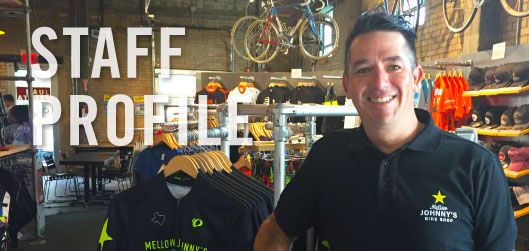 Staff Profile: Adam Raul
Our Sales Manager, Adam, gives us a glimpse into his background, his favorite bike rides, burritos, and more.
Where did you grow up?
I grew up In Foster City, CA. It's a small suburb of San Francisco
What was your first bike as a kid?
My first bike as a kid was a red tricycle, but the bike I first tasted freedom on was my Mongoose BMX.
What was your first "serious bike"?
My first serious bike was my Trek 820 mountain bike. It was a birthday present from my parents way back in 1990. I remember riding 10 miles through the suburbs just to get to the hills to find some trails to rip around on. I put a lot of miles on that bike.
What style of riding do you do? (road, mtb, CX, etc)
I'm a full on roadie now, but I grew up dirt jumping and ripping around on MTB's.
What was your first race?
My first race was the Cherry Pie Crit race in Napa, CA. That was the first race of the season and my race was early in the am with the temp at 32 degrees. Between nerves and racing it didn't take long to warm up—and wearing a thermal jacket to race in didn't help. Rookie move.
Do you/did you play sports other than bike racing?
I started playing soccer in the first grade and played competitively through most of high school. I started playing Indoor Volleyball my freshman year in high school and got hooked on that. I ended up finding a club team which was a Junior Olympic Volleyball Team and started traveling to tournaments and playing in the Junior Olympics for 4 years. My first time to Austin was during my first Junior Olympics. Since then I knew I would live in this town.
During those years I played doubles in the beach. That was my favorite discipline in volleyball for sure. After high school that became my focus and I moved up on the beach quickly. Unfortunately the AVP (Association of Volleyball Professionals) folded, so my budding career as a pro beach volleyball player died. "Four touchdowns one game... Polk High." If you are old enough and watched Married With Children you will get that reference.
Can you remember a "favorite moment" on your bike?
My favorite moment was finishing my first century. Going the through the pain of cramping, tired legs, mental exertion and more cramping and completing what you set out to do on your own is the best feeling.
If a non-cyclist asked you what makes cycling great, what would you tell them?
Cycling is great because you make every ride an adventure, one that you set and plan yourself. On the bike your options are endless and you control that.
What is a favorite ride/route?
My all time favorite route was riding up the coast from San Francisco to Santa Rosa and up Kings Ridge. This also included Mt Tam and Tamales Bay. Here in Austin; Riding to Dripping Springs on Fitzhugh Rd. (no traffic) and out around Wimberley.
What is your bucket list ride?
I would love to ride a early 1900's route of Le Tour de France, drinking wine and eating bread and cheese.
What is your history in the bike business?
Before working at MJ's I was a independent rep for multiple brands.
What is your favorite post long-ride meal?
My favorite post ride meal is cold Coors Light... and a burrito.
Anything else about you, cycling, gardening, favorite color, etc?
I love to shred on board where you have to stand sideways, minus a skateboard. I pretty much sucked at skating and now it would take longer to heal after inevitably eating s*#t hard multiple times. But now Austin has a wave pool and I may be seen a the local break soon, unless the cost is insanely high.