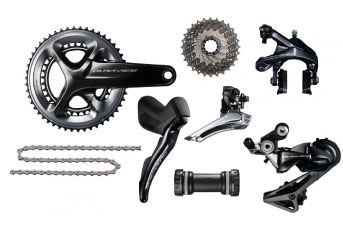 Shimano Dura Ace 9100 Mechanical Group
We now have the newest Dura-Ace mechanical group, and after some testing here in the shop, the consensus is "sublime."
The big update is the derailleurs. The front derailleur has been redesigned into a smaller form, in part to provide more tire clearance and to tuck the cable away. It also has an integrated adjuster for cable tension, taking the place of the traditional dial adjuster. The rear derailleur borrows Shimano's Shadow technology from the mountain bike world, bringing it further inward under the cassette for protection in the event of a hit or crash, and to improve shifting performance. It also has a longer cage to accommodate anything from an 11-23 to 11-30 cassette, allowing the rider to change cassettes for different rides or races without swapping derailleurs.
With two new derailleurs, the 9100 shifts smooth, precise, and quiet, and requires slightly less effort.
The new group also received textured hood covers, and slightly different shaping. The difference is subtle, but generally makes the bar feel a little more supportive on hands behinds the hoods.
The brakes received longer arms so that they now officially fit up to 28mm tires (if your frame will clear them), and Shimano says the calipers are stiffer, too. The initial impression is that this is one of the quickest-stopping rim brakes around.