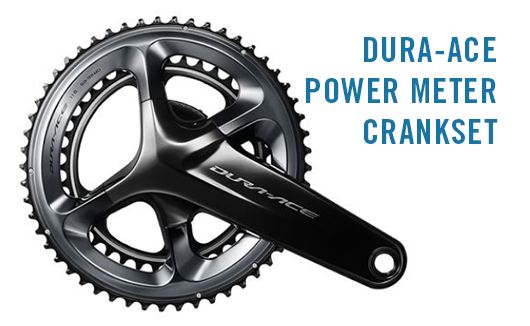 Dura-Ace Power Meter Crankset
The biggest name in component innovation and quality delivers a power meter that performs at a Dura-Ace standard.
The Shimano FC-R9100-P brings a fully integrated power meter solution to work seamlessly within your Shimano group and beyond.
The meter guarantees reliability. It boasts a completely sealed, crank-integrated design that is waterproof in all conditions. The built-in battery is recharged by a small magnetic adapter, so there is no cover to open.
The direct instant response system ensures accurate data collection for stable power measurement at various stepping positions. Plus a simple reset by a switch on the transmitter.
With the first integrated power meter, you can expect extremely accurate data. The FC-R9100-P is Shimano's first power meter, as well as Shimano's first crank-integrated power meter on the market. It retains its unique asymmetrical four-arm spider construction, but with a 'brain' mounted on the inside. On its crank arm are the strain gauges. Working perfectly in sync with each other, you can use the extremely precise power data to improve your performance.
• Accurate real time data
• Compatible with 3rd party displays
• Bluetooth / ANT technology
• Hollowtech II construction
• Hollowglide chain
• 11-speed compatible
Email, give us a call at 512 473 0222, or come by the shop to learn more.